Inírida is one of the most unknown regions of the Amazon basin. However, it has recently become one of the most popular destinations for birdwatchers, thanks to its high concentration of rare and specialised species, its incredible biodiversity and its geographical isolation. Located on the confluence of the Guaviare and Meta rivers, the Inírida River flows into the Orinoco River. Its flood plains, savannah extensions and white sand forests are part of the Guiana Shield landscape, to which this ecosystem belongs. This formation has the particularity of sharing elements of the Orinoquia, the Amazon and the Andes and therefore hosts an incredible avifauna.
Colombia
6 days
From 1500 US$
Birding tours
Photo and bird watching tours
Your travel expert
Xavier Amigo
Responsible for naturalist, botanical and ornithological travel. Responsible of fixing and profesional contact.
Contact our expert
6
6 days
https://birding-experience.com/wp-content/uploads/2022/07/Alapi-Yapacana-Aprositornis-disjuncta-Yapacana-Antbird-XX-02-1240x700.jpg
Meeting at Bogotá airport for our flight to the Amazon with our guide. After a two-hour flight, we arrive in the city of Inírida and transfer immediately to our small city hotel, which will be our headquarters for the next 6 days. Then we will go for our first exploration of the Amazonian forests of the Yapacana reserve, located near the city. This first observation session will take us to the Amazonian forests on white sand. These tree trunks, so particular to the region, are generally found on slabs of highly oligotrophic soil. These ecosystems, which are highly endemic, are unfortunately very fragile. Many birds have specialised in this ecosystem. We will look for antbirds, antwrens, antshrikes and other antbirds and in particular the Yapacana Antbird, a stealthy bird with a very restricted range. Overnight in a charming hotel in Inírida.
Target birds: Glittering-throated Emerald, Pompadour Cotinga, Spangled Cotinga, Black-spotted Bare-eye, Bare-necked Fruitcrow, Screaming Piha, Swallow-winged Puffbird, Spotted Puffbird, Black Manakin, Orange-winged Parrots, Scarlet Macaw, Red-and-Green Macaw, Least Nighthawk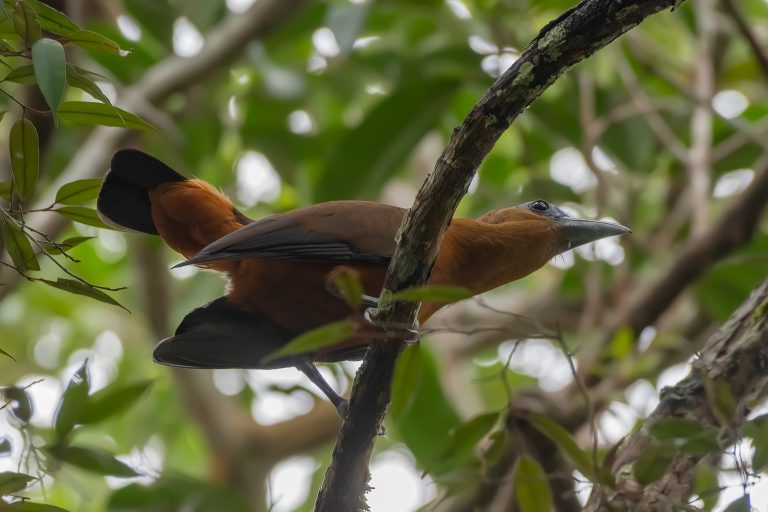 https://birding-experience.com/wp-content/uploads/2022/07/Sabanita-Coracine-chauve-Perissocephalus-tricolor-Capuchinbird-MC-05-1240x700.jpg
Close to our hotel is the richest network of trails in the area. Preserved and managed by the Curipaco Indian community, Sabanita is home to an impressive list of species, distributed across the majority of ecosystems present in the area: grassy savannahs, roadside, white sand forests, but also riparian vegetation. But the vast majority of observers come here to try to locate the curious sound of the rare and unpredictable Capuchinbird. A population of this curious bird has taken up residence here, far from its traditional range. A multitude of other rare and localised Amazonian species also occupy this ecosystem. The open areas are suitable for the observation of several species of tyrant and the passage of large groups of macaws and parakeets. After this long day of observation we will return to our hotel in Inírida.
Target birds: Brown Jacamar, Gilded Barbet, Amazonian Trogon, Amazon Kingfisher, Yellow-crowned Manakin, White-crowned Manakin, Orinoco Piculet, Paradise Tanager, Black-faced Tanager, Burnished-buff Tanager, Giant Snipe, Sand-colored Nighthawk, Spotted Puffbird, Golden-headed Manakin, Black Manakin
https://birding-experience.com/wp-content/uploads/2023/04/Colombie-Inirida-Cerros-de-Mavecure-Piedra-Pajarito-Paysage-XX-23-1240x700.jpg
A 90 minute motorboat ride will take us down to the impressive anthracite rock formations of Cerros de Mavecure, hills of striking beauty, considered sacred by the Amerindians living in the area. If the group's physical condition allows it and if the heat is not too oppressive, we will walk around these time-worn tepuis, belonging to the Guiana Shield. The most intriguing aspect of this area is the presence of different birds of very diverse origins, coming from both the Amazon base region and the Guiana plateau, as if it were a point of convergence. Several lookouts along the river can also be visited. Return at the end of the day to our hotel in Inírida.
https://birding-experience.com/wp-content/uploads/2022/07/Matraca-Batara-Inirida-Thamnophilus-Inirida-Antshrike-MC-04-1240x700.jpg
We cross the Inírida River by dugout canoe to the opposite bank and start exploring several trails. We will spend our morning walking slowly along these pleasant forest trails where we hope to find new species for our list. We will explore some large patches of várzea forest, in particular the Paujil trail where some rare birds but also many mammals and in particular primates are normally found. We return to Inírida at noon to avoid the hotter hours. After a good lunch and a few hours of rest, we will go to the Inírida River, an integral part of the Orinoquia basin. We will scour the banks of this river for many special species adapted to the riverbank vegetation; kingfishers, antbirds, herons, spinetails and many others. Return at dusk to try to observe some nocturnal species. Overnight in Inírida.
Target birds: Rose-breasted Chat, Yellow-crowned Elaenia, Black-chinned Antbird, Blue-throated Piping Guan, Orinoco Piculet, Paradise Jacamar, Slate-colored Hawk, Duida Woodcreeper, Boat-billed Heron Band-tailed Nighthawks
https://birding-experience.com/wp-content/uploads/2022/07/Cano-Culumben-Picumne-Orenoque-Picumnus-pumilus-Orinoco-Piculet-MC-02-1240x700.jpg
This morning's excursion, consisting mainly of várzea forest and flooded primary forest, will take us to the Matraca trails. This complex of paths allows us to go gently in search of many particularly aesthetic species. Jacamars, nunbirds, schiffornis, woodpeckers and manakins. In 2017, a possible new species of antshrike, provisionally named Inírida Antshrike, was discovered in this primary forest area. Pending genetic analysis and further study, we will of course search for this mysterious and fascinating bird in these gallery forests. After a picnic lunch, we explore the lower banks of the Inírida River to try and complete our list of waders and other water birds until nightfall for our final owling session. Last night in Inírida.
Target birds: Hoatzin, Capped Heron, White-throated Toucan, Drab Water Tyrant, Amazonian Tyrannulet, Collared Plover, Pied Lapwing, Orinoco Softtail, Black Bushbird, Black-capped Donacobius, Green-tailed Jacamar, Inírida Antshrike, Black-fronted Nunbird, Gilded Barbet, Várzea Schiffornis, Cream-colored Woodpecker, Buff-breasted Sandpiper, Sand-colored Nighthawk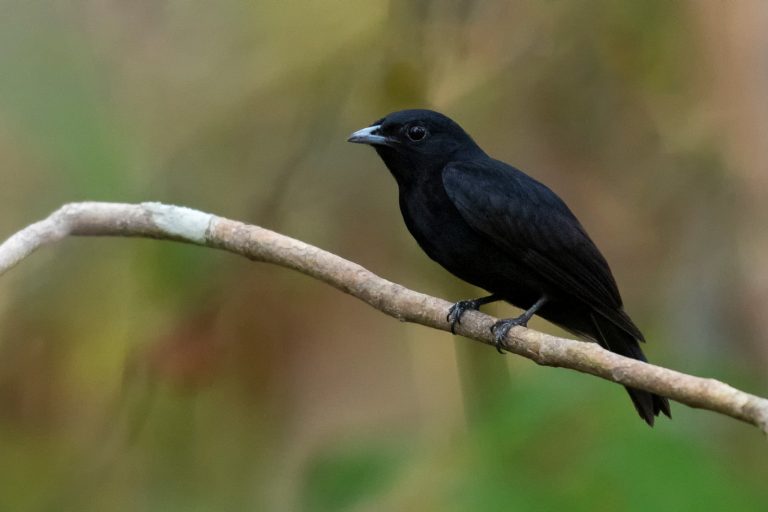 https://birding-experience.com/wp-content/uploads/2022/07/Inirida-Manakin-noir-Xenopipo-atronitens-Black-Manakin-XX-03-1240x700.jpg
We will take advantage of the few short hours in the morning to explore the Yapacana area. This reserve gave its name to the Yapacana Antbird. This antbird is only found around this reserve in Colombia and in a few places in the north of Brazil. Last observation before our return flight to Bogota.
Possible Extensions: Choco - 5 days / 4 nights
Targeted birds: Yapacana Antbird, Green-tailed Jacamar,
Dates of the next departures
Dates
Status
From Dec 10 to Dec 15, 2023
Open to booking
From Dec 17 to Dec 22, 2023
Open to booking
From Jan 14 to Jan 19, 2024
Trip confirmed (4 places left)
From Jan 21 to Jan 26, 2024
Open to booking
From Feb 04 to Feb 09, 2024
Open to booking
From Feb 11 to Feb 16, 2024
Open to booking
Prices per person
Characteristics of the trip
| | |
| --- | --- |
| Travel theme | Voyage ornithologique et photografique |
| Accompaniment | English-speaking specialist guide |
| Group | Maximum 8 participants |
| Arrival city | Bogota |
| Departure city | Bogota |
| Accomodation | Charming hotels |
| Transport | Private transport throughout the tour |
| Physical condition | Easy to Moderate |
| Best season | October to June |
Receive our brochure